Cypress Hill SmokeOut has always been about celebrating the connection between music and medicine. In response to recent Federal actions against medical marijuana and the proposed ban in the city of Los Angeles, we're rallying the troops!

Cypress Hill SmokeOut will be joining Americans for Safe Access (ASA) and the Medicine & Music Project for a peaceful protest at Los Angeles City Hall on Thursday, March 1st at 4:20pm. From there we will continue our peaceful protest by marching to the Federal Building.

We encourage all supporters to join the movement.
facebook.com/cypresshillsmokeoutfestival
If I was in LA I'd be right there marching with you!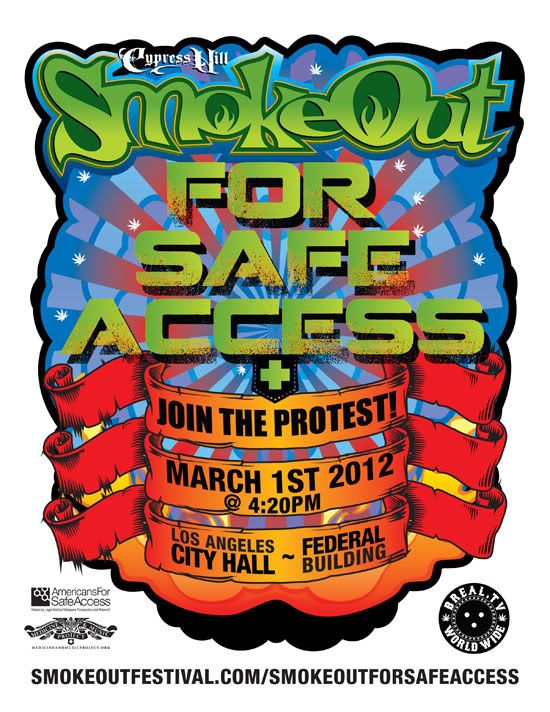 Who: Cypress Hills SmokeOut, Americans for Safe Access (ASA), and Medicine & Music Project

What: Peaceful protest, rally, and march

Why: Response to recent Federal activities against medical marijuana and the local LA ban on medical marijuana dispensaries

When: Thursday, March 1, 2012 @ 4:20pm

Where: Meet at the West Steps of LA City Hall at 4:00pm and march to the Edward R. Roybal Federal Building. We will start marching at 4:20pm

WHAT TO BRING:
Bottled water
Sunscreen
Wear light colors so you are visible
Posters and picket signs!

City Hall:
West Steps of City Hall Address: 200 North Spring St. Los Angeles, CA 90012
Edward R. Roybal Federal Building Address: 255 East Temple Street, Los Angeles, CA 90012
We will start marching at 4:20pm

FEDERAL BUILDING:
Edward R. Roybal Federal Building Address
255 East Temple Street, Los Angeles, CA 90012
All Information on this post was found on
smokeoutfestival.com/smokeoutforsafeaccess